<nav><!-- [et_pb_line_break_holder] --> <div class='combines_conteneur_menu'><!-- [et_pb_line_break_holder] --> <div class='combines_pagemenu'><a href="https://biomedicale.u-paris.fr/combines-en/">Home</a></div><!-- [et_pb_line_break_holder] --> <div class='combines_rubrique'><a href='#mw999'>Project ▾ </a><!-- [et_pb_line_break_holder] --> <div class='combines_sousmenu'><!-- [et_pb_line_break_holder] --> <div class='combines_pagesousmenu'><a href='https://biomedicale.u-paris.fr/combines-en/adenohypophyse-en/'>Adenohypophysis</a></div><!-- [et_pb_line_break_holder] --> <div class='combines_pagesousmenu'><a href='https://biomedicale.u-paris.fr/combines-en/retine-en/'>Retina</a></div><!-- [et_pb_line_break_holder] --> <div class='combines_pagesousmenu'><a href='https://biomedicale.u-paris.fr/combines-en/avancee-du-projet-en/'>Project progress</a></div><!-- [et_pb_line_break_holder] --> <div class='combines_pagesousmenu'><a href='https://biomedicale.u-paris.fr/combines-en/resultats-preliminaires-en/'>Preliminary results</a></div><!-- [et_pb_line_break_holder] --> </div><!-- [et_pb_line_break_holder] --> </div><!-- [et_pb_line_break_holder] --> <div class='combines_rubrique'><a href='#mw999'>Team ▾ </a><!-- [et_pb_line_break_holder] --> <div class='combines_sousmenu'><!-- [et_pb_line_break_holder] --> <div class='combines_pagesousmenu'><a href='https://biomedicale.u-paris.fr/combines-en/notre_equipe-en/'>Members</a></div><!-- [et_pb_line_break_holder] --> <div class='combines_pagesousmenu'><a href='https://biomedicale.u-paris.fr/combines-en/partenaires-en/'>Sponsors</a></div><!-- [et_pb_line_break_holder] --> <div class='combines_pagesousmenu'><a href='https://biomedicale.u-paris.fr/combines-en/#contact'>Contact us</a></div><!-- [et_pb_line_break_holder] --> <!-- [et_pb_line_break_holder] --> <!-- [et_pb_line_break_holder] --> </div><!-- [et_pb_line_break_holder] --> </div><!-- [et_pb_line_break_holder] --> <div class='combines_pagemenu'><a href='https://www.leetchi.com/fr/c/wp69vBzr'>Donate</a></div><!-- [et_pb_line_break_holder] --> <div class='combines_drapeaux'><a href="https://biomedicale.u-paris.fr/combines/adenohypophyse/"><img src="https://biomedicale.u-paris.fr/wp-content/uploads/2019/06/drapeau_fr.png" title="Français" alt="fr"></a><a href="#en"><img src="https://biomedicale.u-paris.fr/wp-content/uploads/2019/06/drapeau_en.png" title="English" alt="en"></a></div><!-- [et_pb_line_break_holder] --> <!-- [et_pb_line_break_holder] --> <!-- [et_pb_line_break_holder] --> <!-- [et_pb_line_break_holder] --></nav><!-- [et_pb_line_break_holder] --><!-- [et_pb_line_break_holder] --><head><!-- [et_pb_line_break_holder] --><style type="text/css"><!-- [et_pb_line_break_holder] --><!-- [et_pb_line_break_holder] --> <!-- [et_pb_line_break_holder] --><!-- [et_pb_line_break_holder] --> .combines_pagemenu > a{text-decoration: none; color:#000000; font-family: lato; font-size: 1.1em; font-weight:bold;} <!-- [et_pb_line_break_holder] --><!-- [et_pb_line_break_holder] --> .combines_pagemenu:hover > a{color:#000000;text-decoration:none;font-weight:bold; } <!-- [et_pb_line_break_holder] --><!-- [et_pb_line_break_holder] --> .combines_rubrique > a{color:#000000;text-decoration:none; font-family: lato;font-weight:bold; font-size: 1.1em;} <!-- [et_pb_line_break_holder] --><!-- [et_pb_line_break_holder] --> .combines_rubrique:hover > a{color:#000000;font-weight:bold;text-decoration:none} <!-- [et_pb_line_break_holder] --><!-- [et_pb_line_break_holder] --> .combines_pagesousmenu > a{color:#000000;text-decoration:none; font-family: lato; } <!-- [et_pb_line_break_holder] --><!-- [et_pb_line_break_holder] --> .combines_conteneur_menu{border-spacing:0px ;} <!-- [et_pb_line_break_holder] --><!-- [et_pb_line_break_holder] --> .combines_conteneur_menu{height:50px;background-color:#FFFFFF;border-radius:5px;width:100%;display:table} <!-- [et_pb_line_break_holder] --> .combines_conteneur_menu a{text-decoration:none;display:table-cell;vertical-align:middle;height:50px;padding:0 5px;text-align:center;-webkit-transition:all 0.25s ease;-moz-transition:all 0.25s ease;-ms-transition:all 0.25s ease;-o-transition:all 0.25s ease;transition:all 0.25s ease} <!-- [et_pb_line_break_holder] --><!-- [et_pb_line_break_holder] --> .combines_pagemenu, .combines_rubrique{float:left;position:relative;border-radius:5px;width:20%;display:table-cell;border-bottom:5px solid #FFFFFF} <!-- [et_pb_line_break_holder] --><!-- [et_pb_line_break_holder] --> .combines_pagemenu:hover, .combines_rubrique:hover{ float:left;position:relative;width:20%;border-top:3px solid #000033; background-color:#FFFFFF;-webkit-transition:all 0.25s ease;-moz-transition:all 0.25s ease;-ms-transition:all 0.25s ease;-o-transition:all 0.25s ease;transition:all 0.25s ease} <!-- [et_pb_line_break_holder] --> .combines_sousmenu{left:0;opacity:0;position:absolute;top:0px;visibility:hidden;z-index:5;width:100%;background-color:#FFFFFF} <!-- [et_pb_line_break_holder] --><!-- [et_pb_line_break_holder] --> @media screen and (min-device-width:1024px)<!-- [et_pb_line_break_holder] --> {<!-- [et_pb_line_break_holder] --> .combines_sousmenu{-webkit-transition:all 0.25s ease;-moz-transition:all 0.25s ease;-ms-transition:all 0.25s ease;-o-transition:all 0.25s ease;transition:all 0.25s ease}<!-- [et_pb_line_break_holder] --> } <!-- [et_pb_line_break_holder] --> .combines_rubrique:hover .combines_sousmenu{opacity:1;top:50px;visibility:visible} <!-- [et_pb_line_break_holder] --> .combines_sousmenu a:hover{background:#f2f2f2}<!-- [et_pb_line_break_holder] --> .combines_pagesousmenu{width:100%;text-align:center;display:table}<!-- [et_pb_line_break_holder] --></style><!-- [et_pb_line_break_holder] -->
Adenohypophysis Organoid
Our objective is to create, in laboratory, a simplified, miniature and functional model of the pituitary gland.
The Hypophysis (or Pituitary Gland) is an Endocrine Gland localised in the anterior part of the Brain where it is linked to the Hypothalamus. The Anterior lobe, called Adenohypophysis has many roles among others with 5 main hormones that it produces:
– Stimulation of the secretion of thyroid hormones essential for the growth, development and differentiation of the body's cells (thyrotropin (TSH))
– Stress response (Adenocorticotrophin (ACTH))
– Reproductive functions, behavior, lactation (Gonadotropins (FSH and LH) and Prolactin (PRL))
– Cell growth and reproduction (growth hormone (GH))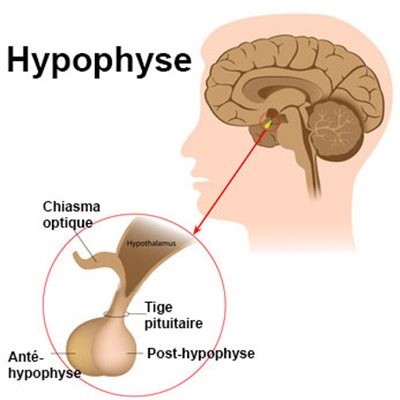 As part of the INOC competition, we decided to model the Adenohypophysis because of the major role it plays in the Neuroendocrinal System and the organism's metabolism. Additionally, Its malfunction can induce many pathologies such as adenomas, pituitary dwarfism, gigantism, Cushing disease (obesity with diabetes, asthenia and hypertension) together with many disorders such as amenorrhea, sexual disorders, infertility, impotence, hypotension etc.
Only two models of pituitary organoids have been published during the past 10 years. The development of such an organoid represents a major challenge in the field of regenerative medicine, fundamental and pharmacological research.
To create this Organoid, we will reproduce the Embryonic development of the Adenohypophysis by differentiating Human Induced Pluripotent Stem Cells (IPS) cultured in suspension into Oral Ectoderm then into Cranial placodes until the final pituitary cell subtypes.
Support the futur of Medicine !